Owen Cooke
102 – Dublin
2004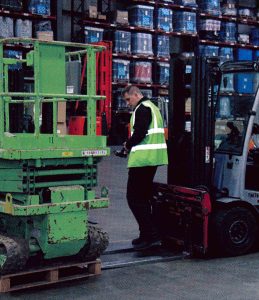 Independent Express Cargo moved from its original base in Santry to its current location, which is situated on an eight-acre site in Ballycoolin, in 1999. While the company's initial core business of freight forwarding, warehousing and European road freight continued to develop, national distribution of palletised cargo became a priority through its association with pallet networks in the UK. This led to the establishment of TPN Ireland.

Independent's 100,000 square foot warehouse is a state-of-the-art freight handling facility, which by day operates as the Independent Express depot and at night becomes the hub for TPN. Independent's broad range of clients include international freight companies retailers, chemical distributors and engineering firms. Its services include
overnight and same-day pallet and parcel distribution, together with an increasing amount of part-load and full-load work.

While Owen Cooke is the principal of Independent Express Cargo, Nicola Finegan, customer services manager, runs the day-to-day operations of the company. She has worked in customer service for many years with Ryanair, ITCS in Dublin Airport, and various travel agencies. She moved from people transport to freight transport when she joined Independent Express Cargo in 2007. "Independent has a very loyal client base," said Nicola. "We have been in business for thirty years and we pride ourselves on providing the best pallet and parcel distribution that's available. Some clients have been with us since the very beginning."

To get away from the hurly-burly of a busy transport company, Nicola brings her dogs for long walks in the countryside. Nicola is a two-time winner of the TPN Outstanding Contribution award.