Eoin Gavin
130 – Bunratty, Co. Clare.
2008
Eoin Gavin's father, Terry, and his uncles were involved in the haulage business since the 1950s. In 1998, after studying business and marketing at the University of Limerick, and doing a stint for Shannon Transport, Eoin was keen to expand the family business. His father thought it too risky and so Eoin purchased his own truck and established Eoin Gavin Transport. He started in the construction sector and noticed how large companies in that industry were driving down charges to hauliers and so undermining their viability. This prompted him to join the lrish Road Haulage Association (IRHA). In 1999, he became a council member, served as national secretary in the early 2000s and successfully ran for the IRHA Presidency in 2011.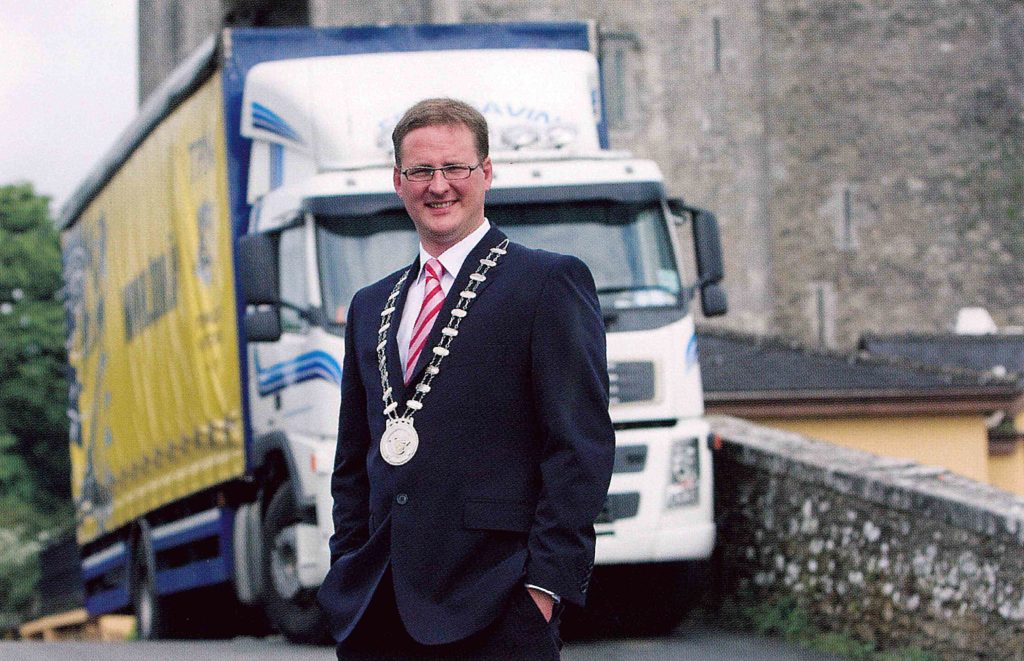 Meanwhile his business expanded. Eoin Gavin has developed a strong reputation for international, long haul transport as well as agricultural, manufacturing and general haulage. Refrigerated trailers transport food nationally and internationally, including fish from Kenmare and Castletownbere to France and Spain. Eoin joined TPN in 2008 after he was introduced to the idea by Ger Hyland and Gordon O'Keefe amongst others. "Customers were asking us to move smaller consignments nationwide but we couldn't. By joining TPN, we could take on his kind of business.' One of his clients in the motor trade has goods to go to twenty designated retail outlets. These go through TPN and all of the depots know that the pallets need to be delivered before 10.00. It allows the client to take orders up 5:30 in the evening and have the goods in the shops by the following morning.
When Eoin was elected to the presidency of the IRHA in 2011, he identified several urgent issues. He has worked hard to unite hauliers as a force to lobby on behalf of their own industry. I strongly believe that haulage is a very important industry and in TPN we have hauliers working closely together handling clients with respect and sharing the same core values.'