Total Materials Handling have supplied The Pallet Network with 10 new electric forklifts from Still. The RX60-25 has already proven a hit with the TPN's warehouse operators.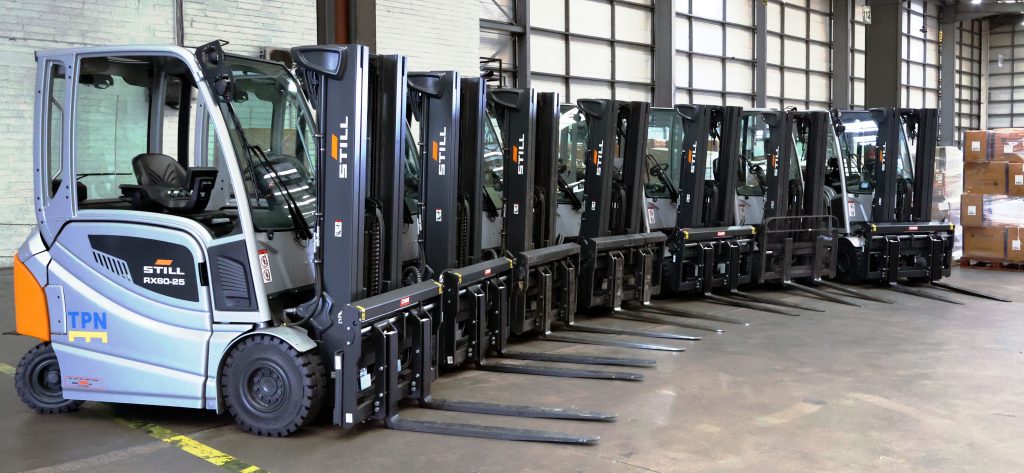 As more and more vehicles are moving towards electric motors, for smoothness, reliability, quiet running, and zero emissions, TPN decided to investigate our options. TMH advised us to look at Still's RX60 for the running of our overnight Hub operation. In the past our diesel forklift engines would be running throughout the night, reaching a peak around midnight. With the electric motors, our emissions have been cut drastically.
The TPN network partners are operating diesel trucks for trunking to their local depots so, for the moment at least, we have not eliminated emissions on site. However, with the progress that manufacturers are making with motor efficiency and battery capacities – including Toyota's exciting pioneering work with 'solid state' – it may not be long before long haul trucking is revolutionised. Currently electric vehicles make use of batteries with liquid electrolyte. Solid state batteries usually have a gel-like electrolyte instead of liquid. This means a more stable battery with higher tolerance for high voltage and temperatures – which leads to much better scope for extremely rapid charging.
Due to the increased weight, density, and low centre of gravity of the battery cells, the electric forklifts can be quite short – thus leading to a tighter turning circle, and improved manoeuvrability in a busy environment.