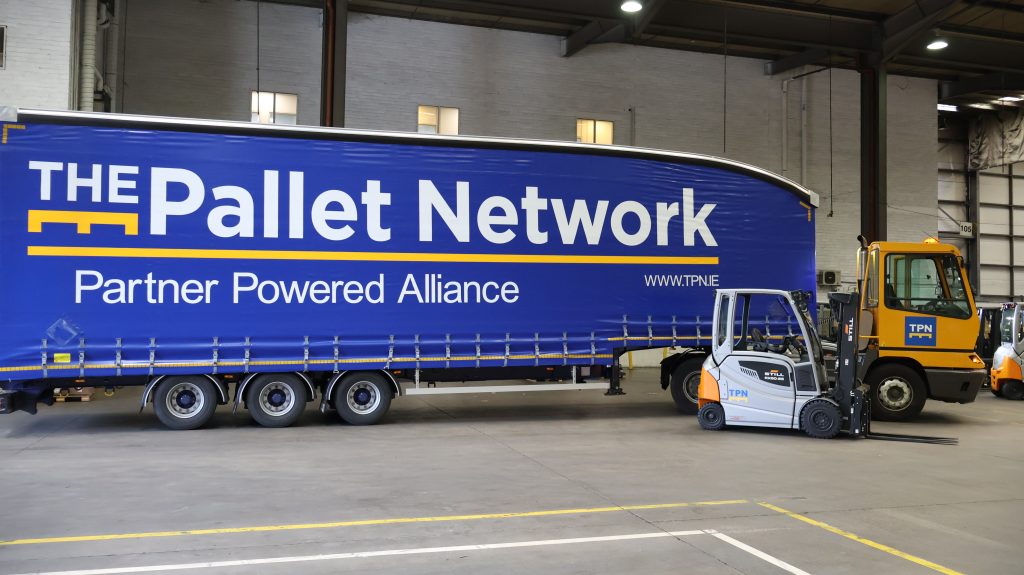 When new equipment meets new equipment! It's all gleaming and new here at the The Pallet Network Hub in Dublin. We're delighted to announce that we have some new equipment to help move your goods to where they need to go, more quickly and cleanly than ever before.
The fourth of six new double deck trailers has come into service on the Ireland – Great Britain – Ireland route. Keep an eye out for the new trailers on the roads between Dublin and the UK Midlands.
Alongside the new trailer and new TPN branding, are our brand new electric forklifts. Dublin-based Total Materials Handling are exclusive distributors for Still & Hako in Ireland. They have supplied us with ten new Still electric FLT's.
As TPN operates 24 hours per day, 6 days per week at the Irish Hub, we demand a lot from our equipment. The switch from ICE (internal combustion engines) to electric-powered forklifts will make the Hub a cleaner, greener working environment. We have invested in new electrical infrastructure to handle the new charging demands.
Huge thanks goes to Dixon International, who do our UK trunking, TMH who supply our FLT's, and lastly to our fantastic staff, without whom we could not not operate!
#tpn #tpnUK #onetpn